South Shore Realtors® Booties on the Ground! RE34RC03 National Economic Trends and The Real Estate Profession
Did we not have a blast at South Shore Realtors® Booties on the Ground! RE34RC03 National Economic Trends and The Real Estate Profession? Live Online Video Education with Agent Rising, Kate Lanagan MacGregor, and so many of my South Shore Realtors® friends! Here is your presentation!
RE03RC08~ Real Estate Laws and Regulations~aka Avoid Real Estate Jail!
Northeast Association of REALTORS®, Berkshire County Association of REALTORS® and the Cape and Islands Association of REALTORS® joined forces to attract 270+ of their members together for RE03RC08. Loving the commitment to excellence of our REALTOR® Professionals throughout the state! Special shout out to the teams at the Boards for help make these trainings possible! They are so committed to their amazing members!



Missed this one? This is part of Agent Rising Continuing Education Anytime learnin…
Real Estate Broker License
Are you a real estate professional ready to become your own boss?  Maybe it's time to pursue your broker's license!  Agent Rising offers an online broker course to help you pass your test and get your broker's license.

Take the course from the privacy of your home and we supply all the tools you need to get your hours and be prepared to take the broker's test.  We supply the books, webinars and slides along with support to  guide you through your journey.

Now is a great time to up your professiona…
Online Courses at Agent Rising
With all the talk of the corona virus and social distancing, now might be a great time to start your online real estate course on the path to your real estate career.

With all the cancellations in Massachusetts and people encouraged to stay home, now is a great time to visit our website and start enrolling in your online real estate course.  You can finish with your LIVE hours at the RISE Welcome center in Mattapoisett when the crisis starts to ease and a more normal work schedule is established.…
RISE Welcome Center
The RISE Welcome Center on 145 Fairhaven Road in Mattapoisett is ready for you. We had a great LIVE BootCamp last week and the Welcome Center is alive with study groups and students.

We offer our online courses as well as LIVE hours at the center to become a real estate agent, obtain your broker's license, instructor course and continuing education.

We have everything you need in your real estate career to help you RISE as an agent. With all the pandemonium going on around us, it's a great time to…
Spring Lawn Care Tips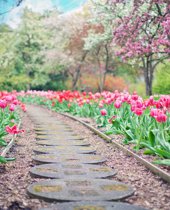 Spring is rapidly approaching.  We may still get some snow but it will likely melt quickly.  Now is a great time to start thinking about spring landscaping maintenance.
The snowdrops and crocuses are starting to spring up and green daffodil shoots are sprouting up through the leaves.  Now is the time to start working on your landscaping.
Start by raking the lawn and flowerbeds.  Rake up the fall leaves, dead grass and sticks that have fallen down from the trees with the high …
Great Two-Day Boot Camp at Agent Rising
Agent Rising Real Estate School just completed their two-day Boot Camp on Friday and Saturday! It was a great two-day class at the Rise Welcome Center at 145 Fairhaven Road in Mattapoisett.

The Rise Welcome Center has undergone a renovation complete with standing tables, poufs on the floor with low tables, and conventional round table set up.

The energy  in the room was great.  People could rotate around the room and this helped with the 10 and a half hour days.  Instructor Kate Lanagan MacGregor …
Real Estate Tool Box
What's in your real estate tool box literally?  We have all kinds of real estate tools to help us in business, such as ipads and websites and apps for our phones we can use, but what about the actual day to day duties of being a real estate agent?
A reliable car is always a must and the more economical the better.  Realtors can rack up lots of miles in their day to day travels and keeping track of mileage at tax time is important.  You can keep  a log on your iphone or ipad and the Maps App will…