Spring Lawn Care Tips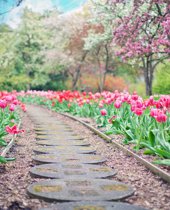 Spring is rapidly approaching.  We may still get some snow but it will likely melt quickly.  Now is a great time to start thinking about spring landscaping maintenance.
The snowdrops and crocuses are starting to spring up and green daffodil shoots are sprouting up through the leaves.  Now is the time to start working on your landscaping.
Start by raking the lawn and flowerbeds.  Rake up the fall leaves, dead grass and sticks that have fallen down from the trees with the high winds. Uncover all the green shoots hidden under the leaves in your flowerbeds.  It may be a good time to add fresh mulch to your flowerbeds.  Weed and then mulch.
Test your soil ph and fertilize your lawn accordingly. Weed and feed but don't overdo it.
Aerate your lawn so water and nutrients are better absorbed.  There are many ways to do this.  You can opt for aeration shoes and get some exercise or rent a larger tool.
Fill in any bare spots in the lawn.  Rake them up and dig up the soil a little. If needed, add loam and reseed.  Keep the seeds wet and watered. Pick the right seeds for your area of the country.
Now is the time to get the lawn mower out and have it serviced or check the fluids and fuel yourself.  Drain any old fuel out which has set all winter.
Wait to cut the grass until it is tall enough.  Cutting too short and too often is not good for the lawn. Always cut the top third of the blade of grass and don't bag it.  If you mow on a regular basis, the clippings are good for the lawn.
It's a great time of year to get outside and work on your landscaping and keep your home looking it's best for spring.
Have you always dreamed of becoming a real estate agent and helping clients buy or sell their homes.  Spring is a great time to get started.  Start with our online courses and finish with LIVE hours to finish your requirements to sit for your real estate exam.  Our Rise Welcome Center in Mattapoisett is busy with students preparing for their real estate license. Visit
www.agentrising.com
or call 508-997-8844