Agent Rising Real Estate School Gratitude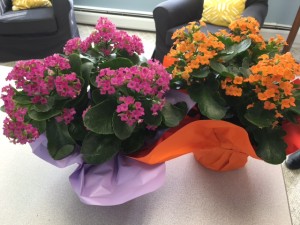 Agent Rising Real Estate School just finished their 4 Day Intensive Training for aspiring Real Estate Agents and Brokers.
 The class was a huge success and a testimonial to Kate Lanagan MacGregor and her team at BBM.
Margot Stone attended the class last week.  She already is a real estate agent but wanted a refresher course  to become immersed in real estate again.  Here is her sweet testimonial along with a picture of the beautiful flowers she presented to Kate and Marie.
Dear Kate and Marie,         I want to reiterate my gratitude for providing me with such a positive experience last week at your Agent Rising Real Estate School.  You supported and helped me in so many ways! Not only did you teach me a great deal, but you also allowed me to reach my goals and get back into real estate.    I am so appreciative of the time, energy, kindness and spirit that you devoted to all of us.  I feel as if I have made two special friends!         Fondly and gratefully,             Margot
Agent Rising Real Estate School is truly a unique and individualized setting to help you achieve your real estate goals whether it involves becoming a real estate agent or helping you achieve your goals to better your real estate career.
V
isit www.agentrising.com for more information on how we can help you.