SEMAR Annual Membership Meeting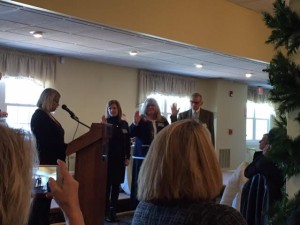 The Annual Membership Meeting of SEMAR or Southeastern Massachusetts Association of Realtors was held yesterday at Rachel's Lakeside in Dartmouth, MA.  This included the annual Installation of Officers and Directors and  new Members.
The meeting included a delicious brunch  and an Inspirational Message from Kate Lanagan MacGregor.
BOLD Moves Real Estate was out in full force with three new inductees, Becky Hibbard, Pam O'Connell and James Lanagan.
Kate Lanagan MacGregor was also installed as President Elect.
The Meeting was also important for the future of the Association.   A vote that was taken to determine the possibility  of a  merger of Southeastern Association of Realtors with Bristol Association of Realtors and The Greater Fall River Association of Realtors.
The vote was a resounding yes and the Association can now go ahead with the merger.  This will make for a better use of resources and a larger association with more members and influence in the real estate world.
Visit www.agentrising.com for more real estate news and events.