New Bedford Celebration Day in Fort Myers, Florida!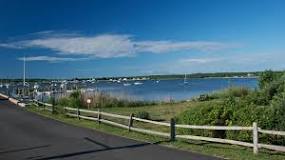 New Bedford Celebration Day
in Fort Meyers, Florida occurs yearly and always draws a huge crowd.  Snowbirds and natives  of the Southcoast flock to this event in  Fort Myers each year to celebrate their native city.
 This event   always draws close to 1,000 attendees
.
WBSM will be there with PHIL Paleologos and Kasey Silvia broadcasting live from Fort Myers on March 10th and March 11th as well as from the New Bedford Day event on March 10th with live call ins during the afternoon.BOLD Moves Real Estate will be the featured business along with Dave Garro of BOLD Moves.
There will also be 40 Live and Recorded promotional announcements the week leading up to broadcast  Starting March 3, 2015.
Dave Garro, a real estate agent at BOLD Moves Real Estate is excited to be part of this event and invites everyone to listen in.Dave Garro, along with BOLD Moves Real Estate will also be hosting another Seller's Workshop on March 16th  at Flour Girls in Fairhaven, MA.  Stay tuned for more information.Visit us at www.agentrising.com