Finding Home Treasures in the Snow!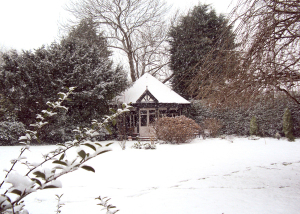 There is no shortage of snow this winter but how does that affect homebuyer shopping?
 When the weather breaks and spring is around the corner, the For Sale Signs come out, but what are the pros and cons of shopping for a house during the cold winter weather?One advantage for homebuyers if they are willing to trudge through the snow and the slush is less competition.
 The homebuyer who is willing to brave the cold is usually a serious buyer.   Many of these houses have come on in the fall and by the end of winter have been sitting for a  4 or 5 months.  The seller may be ready to negotiate a better price.
The disadvantage for the homebuyer may be that there is less inventory and they may need to act quickly if they see something they love.Buyers may also be reminded at this time of year the benefits of owning a home.
 There are many deductions for interest on mortgage and home equity.  The earlier in the year you buy, the more equity you'll have in your home by the end of next year which can translate into big savings.
One big advantage of looking at houses in the ice and snow is that you see the house at its worst.
 You can see the neighborhood when all the leaves are off the trees.  This will give you an idea how close the neighbors actually are, how the house is laid out and where it sits on the property.
The bad weather can also point out drafts and flood issues and how well insulated the house is.
 If you step inside and the house is warm and cozy in extremely frigid weather, you can be assured of the heating situation.
A few cons of looking at a house on a particularly snowy day, may also be evident.
 You can't get a good look at the roof covered in snow and it may be hard to trudge through the yard to check out the outside of the house.  You really can't see the landscaping and it may be hard to evaluate features such as bulkheads and sheds when the snow makes access difficult.  Home inspectors may have trouble getting up on the roof  and checking out certain aspects of the house.  They can inspect the heating system but may have trouble checking out the AC system.
Sellers may be more conducive to selling, especially if they are sick and tired of showings and keeping the walks and driveways clear of snow and ice.  This can work to a buyer's advantage.So if you are a serious homebuyer, this may be the time and season for you to find your dream home.Visit us at www.agentrising.com for more helpful information on buying and selling homes.