Meeting with the Mattapoisett Building Inspector!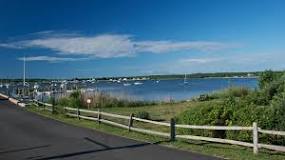 On Thursday, February 5, 2015, The Mattapoisett Building Inspector , Andrew Bobola, along with Kathleen Costello, head of the Assessors Office, held a workshop for local real estate agents.
About 25+ Agents attended  included Kate Lanagan MacGregor and company from Bold Moves Real Estate, Dawson Real Estate, Jack Conway, Seahorse Real Estate, Alferes, just to name a few.  The meeting was held at the Library since there were so many in attendance.   The meeting was initiated to educate and assist realtors in performing their jobs.
 According to Kate Lanagan MacGregor,   "Their commitment to us to be the best realtors possible and that service will trickle down to our consumers.
"
Andy Bobola talked about FEMA Maps online
.  He is a  "show person".  He likes to show laws or have you show him.  He will return your calls within 24 hours.  He talked about building codes and how this has affected flood plains and also talked about the Biggert Waters Act in a way that made sense.
He also talked about new construction and the 50% rule. They consult the book and 3 years starts on construction and first permit visit.
Kathleen Costello talked about Assessments.
 Under 3000 square feet, they use sales comparison for commercial building.  Over 3000 square feet, they use income approach.    Four apartments and higher they use income approach and 3 and below sales comparison approach.
By the water, they value the land first and then add house onto it.  They use an appraisal company.Assessors have a new GIS System with great information and overlays including flood.  Statistics not a fee appraisal.Tax Rate is 13%.  Town at 100% assessment rate.  She really stays at 94%. They go into house every 9 years and they do 666 houses per year.  This is how they stay in compliance
.
She also talked about new construction and how they use a formula for that.
 Also a consumer may hire architect or engineer to look at.  Liability is shifted to the engineer rather than the town or homeowner.
Solar panels are exempt.
She is finding process.  Had to make 125% electric back to grid.  She doesn't know of anyone selling residence back to grid.
Also talked about sign placement.  Leading edge of sign 8 feet from edge back from hardtop. Open House signs should be put out the day of the Open House.  Off premises signs need approval from the Board of Selectme
n.
It was a very helpful and informative meeting.  According to Kate, "The initiative of our town employees shows just how special Mattapoisett is!"Visit us at www.agentrising.com for more information.