Real Talk about Real Estate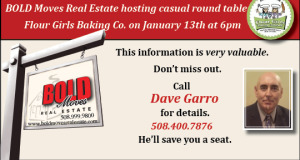 Dave Garro published a great blog on his website
www.davegarro.com
   It was a great success and here are the highlights of the night posted on his website on January 14, 2015.
Hi Everyone,
Last evening, BOLD Moves supported me in hosting a casual informative discussion for people contemplating selling their home. Very important.
Those who know me through coaching sports, building , or real estate, know I like helping others achieve by being straight and true.
First thing people need to be aware of  when interviewing an agent to sell their home is this. The Ma. Association of Realtors  mandates ( yes, mandates! ) that on first face to face meeting to discuss  a property, an agency disclosure must be presented. No ifs, and/or buts.
The form is NOT a contract. It is to disclose exactly in what capacity the agent will be obligated to you. Here is where you need to be smart.
Unless you have already decided to hire this person, they should not  be designated as a "sellers agent"  They should merely be designated as a "facilitator ".  Do not discuss your motivation. Do not discuss money.  As in what you would want or accept. What money is owed to lenders. Any time constraints on you. NOTHING!
When I go on an interview. My job is merely to assess the properties fair market value and discuss how I would market your property to get it sold.
I would give you options of offering prices, for you to decide upon. Wether you want to test the market  or move it quickly. This is important.
An agent doesn't need any situational information to derive a fair market value. Should you not hire that agent, they would have an advantage in negotiations should they know a buyer for your property.
Work with someone you trust has YOUR best interests at heart.
Any concerns, fire away! Take care, Dave
Visit us at
www.agentrising.com
for more information to make you the best realtor you can be.