BOLD Moves Real Estate Delivers Turkeys!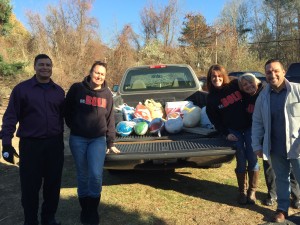 100 Turkeys are going to feed 2000 people who are being delivered Thanksgiving Dinner. Additional turkeys will be given to families to cook their own Thanksgiving meal.
This weekend 
BOLD
Moves Real Estate as well as Agent Rising collected and helped deliver turkeys with the Acts 29 Project serving the Greater New Bedford Area. We were thrilled to help this year, and are looking forward to next year!
Jamie Casey
 is part of a Group called 
Acts 29 Project
, with this call to action:  "Please join us as we work together to be the hands, feet and heart of Christ, meeting the needs of the people of the 
Greater New Bedford
area. The harvest is plentiful but the workers are few!" That harvest was plentiful today! We are part of their Facebook Group, 
Acts 29 Project.
 Visit them there if you want to donate! Any overabundance will be sent to the Salvation Army! Jamie said that if you want to volunteer with food preparation, show up at Greater New Bedford Vocational Technical High School  Wednesday after 5, or in delivering on Thanksgiving. You can reach Jamie through his facebook page, or we can hook you up!
Here is a quick clip of 
BOLD Moves Real Estate
 and 
Agent Rising
 as we got ready to bring down our  turkeys!
http://youtu.be/gTgViDwcHo8
Service feels good.  It feels good to do good. As we enter into holiday season and you are feeling blue, think of reaching out and helping someone! Both of your lives will be enhanced! Reach out to Jamie Casey of the Acts 29 Project today! We would like to wish everyone a happy and safe Thanksgiving!